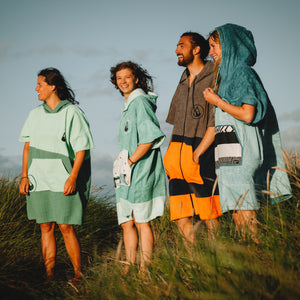 DISCOVER OUR NEW MODELS NOW.
OUR
PONCHOS
Fluffy, skin-friendly and made of natural and sustainable materials - without microfibers and plastic. Whether after a shower at home or during sports, in the leisure pool or in the thermal baths, during water sports or camping, in the sauna or in the gym etc. Your poncho leaves Don't stand in the wet, warms you up and protects you from prying eyes when changing.
Here go to the size guide.
DER WAVE HAWAII LIFESTYLE
More than just a brand...
HAWAII is a cult epitome for athletes, adventurers, those seeking peace and quiet, romantics - and for a relaxed and positive attitude to life. Also varied nature with rainforests, mountains and dream beaches, hula hula and island beauties with wreaths of flowers...
CONTINUE READING