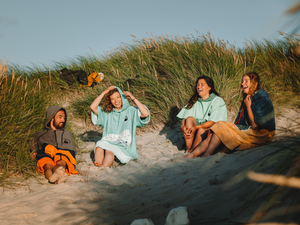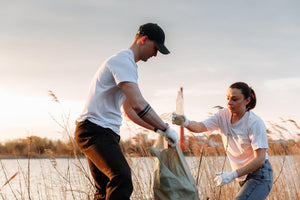 It also starts with you!
The environment is very important to us. We therefore strive for the smallest possible ecological footprint, which we want to leave behind for future generations. On the one hand, we strive to manufacture and pass on our products according to environmentally oriented aspects. On the other hand, we pay attention to our behavior and our environment. Nowadays it is easy to find places in nature that are polluted with waste. Honestly? We get high blood pressure when we see how careless and disrespectful people simply throw away their waste or leave it lying around. What to do? Enlightenment without a raised finger is possibly one thing. The other thing is to become active, to "arm" yourself with tongs and garbage bags and just get on with it. Don't just talk about it, do it!
Become a part!
And that's exactly what we want to encourage you to do. During the ordering process you can let us know whether you would like to receive a pair of wooden grippers and a recycled 240 liter garbage bag free of charge, with which you can then get started straight away. Whether on a beach, river, bike path, forest, meadow, park - no matter where. There are many possibilities. Alone or in a team... And after cleaning up, you can not only be proud of the on-site results, but above all of yourself.

We are happy if as many of you as possible want to become active. And feel free to share the photos of your very private campaign with us!
Life is great!
OUR STORY - WITH PONCHOS THE STEP TOWARDS SUSTAINABILITY
After we decided in 2017 to enrich the market with our WAVE HAWAII ponchos, which not only look chic and stylish, but should also be made from skin-friendly and sustainable-natural materials. In addition, we wanted to have the ponchos manufactured under environmentally friendly and work-friendly conditions - not in the way that is known, for example, from reports on production facilities in China, Bangladesh or India, where not only employees are violated, but also children (have to) lend a hand. and environmental protection is a foreign word. So we started looking for a suitable production facility. We had to plan more time for this undertaking than we had thought in advance. After extensive research and personal discussions, we finally found what we were looking for in Pakistan (- and since spring 2021 also in Portugal, to which the following explanations apply in a similar way.) Here we are dealing with very friendly company owners who care very much about the well-being of their employees heart because they see this as their greatest asset and without which they cannot lead their family business to sustainable and long-term success. Motivated employees are seen here as a key to success. This is what prompted us - in addition to quality, environmental aspects, the pleasant and reliable contact - to have our ponchos and other products manufactured here. For the reasons mentioned, we deliberately did not choose one of the cheapest producers, but rather the one with the most convincing overall package including ethical principles. For the sake of the people. For the environment. for your sake and for us. Therefore, it is of course the case that our products are not the cheapest on the market, which is definitely our claim. We'd love for you to share our thoughts and values and enjoy your stylish WAVE HAWAII companions with a clear conscience.
One of our poncho production facilities - the details
The manufacturing facility was established in 2008. The factory is located in Faisalabad, Pakistan and is still an owner-managed family business. A large part of the 21 tm² are sewing halls. The remaining areas are divided between warehouses and offices. The factory building is open, so that a pleasant air and room climate with optimal lighting conditions can be guaranteed at all times. We therefore find a pleasant working environment, which is also preventively equipped with all fire-fighting equipment. The escape routes and exits are designed as required by law
Manufactured Products
We manufacture textiles; including ponchos, bathrobes, hand, bath and beach towels, bed linen and cotton blankets. We also manufacture manufacturing services for other textile products of almost any kind.
business model
We typically produce cotton terry and viscose from bamboo and cotton, velor cotton, waffle cotton and other types of cotton fabric. Our other tasks include weaving, dyeing and finishing of all fabrics according to customer specifications and requirements. In the final process, the goods are sewn together, finished, inspected by our quality control team and packed in our factory according to customers' requirements.
Our quality control team inspects the production process from start to finish - from raw material selection, weaving and dyeing to sewing, finishing and packaging.
Our cotton
We love our planet! All our cotton materials are "Öko Tex Standard 100" certified by a German institute.
What does this label actually mean?
If a textile item bears the ÖKO-TEX® STANDARD 100 label, you can be sure that the fabric is completely free of harmful substances.
The test is carried out by independent ÖKO-TEX® partner institutes based on an extensive ÖKO-TEX® catalog of criteria, including on-site audits to ensure that all items are manufactured in compliance with sustainable working conditions. During the audit, inspectors consider a wide range of regulated and unregulated substances that can be harmful to human health and the environment. In many of these cases, the limit values for the STANDARD 100 go beyond national and international requirements. The ÖKO-TEX® STANDARD 100 catalog of criteria is regularly updated and expanded according to new scientific findings and legal requirements. It is not easy for manufacturers and customers to get an overview of the legal situation regarding pollutants. That's why the experts at the ÖKO-TEX® institutes do this for us.
employee benefits
We offer all our employees safe and pleasant working conditions. They are paid well and their wages are scaled according to their skills, qualifications and length of service at the company. Pakistan has a strict minimum wage law. We guarantee that those with the lower salaries will be above the minimum wage set by the government. In addition to their normal wages, all employees are entitled to vacation days, EOBI, social security and overtime pay.
Social Security and Retirement Benefits
Our factory is registered with EOBI Social Insurance Scheme of Pakistan Government. This provides employees with free medical treatment - not only for them but also for their families. In addition, the program stands for pension, retirement benefit and social security entitlements. Our company pays monthly contributions to both the EOBI and the Health Department of the Government of Pakistan so that our employees receive all the benefits to which they are entitled.
child labor and discrimination
Our factory has a very strict zero tolerance policy regarding the use of child labor. It is strictly forbidden to employ children. We also ensure that there is no discrimination against employees based on gender, religion, social status, disability, sexual orientation or ethnicity.
RETURN OF USED PARTS
We attach great importance to making our WAVE HAWAII products from natural and sustainable materials. For example, we create our ponchos, bathrobes and bath towels from the raw materials bamboo or cotton in accordance with Öko Tex Standard 100. Wood from sustainable and environmentally friendly forestry is used for our wooden sunglasses and watches. We are working on finding sustainable solutions for one or the other product, such as our beach buckets or key locks, which contain plastics such as polyester or PVC. We would like to emphasize that we always offer products that aim for a long service life and do not support disposable consumption. However, should the day come when you have to part with this part, we offer you to have this product picked up from you at our expense.

Here we will then collect the parts and send them to the appropriate recycling processes, so that no environmentally harmful substances simply end up in the garbage and pollute the environment.
What do you have to do? Just send us an email office@cavida-sports.dewhich product we should have picked up where. Finished.